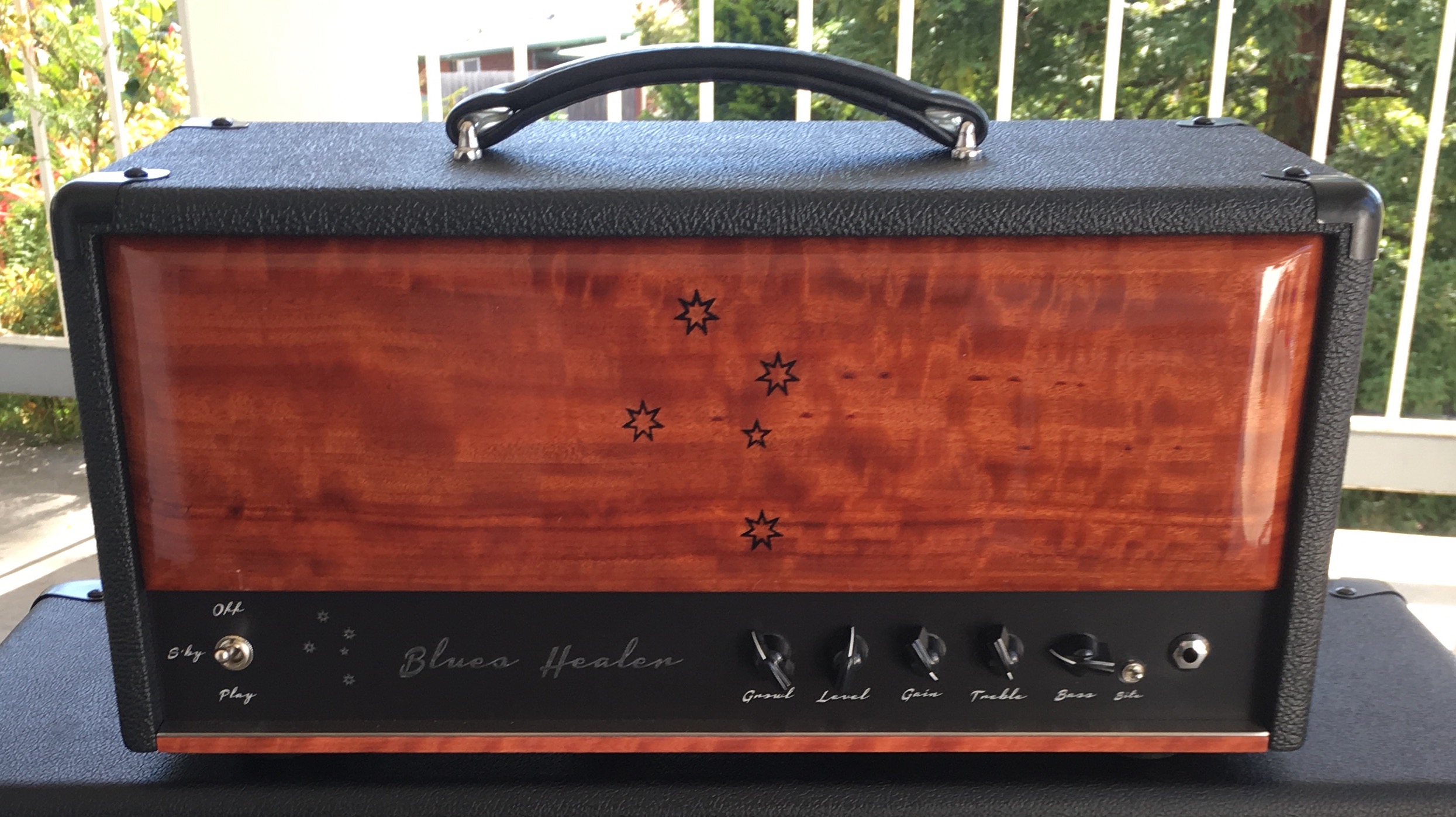 The Blues Healer 22 Inspired by an Australian amp of yesterday for players of today. In designing this amp I was looking for a stage friendly tool. Around 20 watts, enough for small gigs but not overpowering in stage environments where in-ear monitoring is becoming mainstream. I really wanted a big octal tone, the sound of a 50 watt amp but in a lower powered package.
I also wanted an amp that absorbed pedals, but had gain to spare without them. Using an EF86 in the input stage allows pedals to be simply sucked into this amp. Its not wired the garden variety way tho and as a result retains the great elements of EF86 amps without the downsides they exhibit. You hear every nuance of a pedals character as a result. Its a killer pedal platform.
But guitar-cord-amp sound had to be stellar as well. And it is. Theres a kind of 3D presence in this circuit, an airiness that gives it a very multi dimensional projection. Even at very low volume. Cleans are kind of Vox meets silverface bandmaster, but the drive takes on a very Marshall character, think Plexi into 800. Tight, raw and aggressive.
Part of how i rate any gear, guitar/pedal/amp, is how well they clean up. This amp can be dimed where full noise at the guitar is over the top gained power, but roll off the guitar and you go straight back to pretty cleans, very Trainwreck in its character.
Controls are simple. Part of the old Aussie amps inspiration was its Baxandall tone stack. These are found in old Orange amps, Ampegs, some pedals tho today its mostly implemented in hifi.
Treble and Bass controls divide the stack usefully, dont worry about a mid control, its tuned for guitar midrange.
As you increase either control, you add gain and output without losing the midrange focus and cut.This allows adjustment for either a bright low output single coil guitar to a high output bassy humbucker guitar, simply by adjusting the top or bottom to balance.
The volume control feeds the following stage and reacts similarly by adding gain with volume.
As a straight rock/blues amp, its guitar-cord-amp, adjust the gain of the amp with bass and treble and volume to suit. Add a little reverb or delay into the front end, and it is all the tone you will want. As a pedal amp, i tell guys to dime the volume and keep the tone controls off. This allows the most headroom for pedals and often the way i run it in low volume gigs.
Clean, mean and every tone in between. Southern Cross Blues healer.
The Blues Healer 44 is a higher powered version of the 22 watt amp. Same circuit and ideals applied with 6L6 power stage to get loud band volumes and cut. As with the smaller amp, the controls are thought of as gain controls in their respective frequency ranges, dividing the tone stack into a top or bottom boost while retaining a tight mid focus, where guitar lives. This amp is everything the 22 watt amp is, just more of it. More of a good thing in this case, is pretty damn good. Given the larger glass, the sensitivity of the circuit increases a little, there's a little more 3D quality, more prettier cleans, more aggressive rock tone when pushed. Its the closest I've heard 6L6's do pushed 800 style EL34 tone, its a grin maker. Where you need more output, we have the amp to fill the gig.
Power 44 watts PowerTubes 6L6 x 2
Preamp V1-EF86 V2-12AX7
Rectifier GZ34